Relieve Pain While Removing Toxins from Your Body
This ancient treatment can be thought of as the inverse of massage. Instead of applying pressure to muscles, suction pulls skin, tissue, and muscles upward. This relieves pain while also removing toxins from your body. Originating in China, the art of cupping is great at helping stimulate the flow of fresh blood and Qi (life force) to specific areas of the body.
Cupping is a form of
myofascial release
, and we use suction to soften and release adhesions, restructure the fascia, release toxin buildup in the tissues, and create space along the spine and low back for more effective movement and circulation.
​
At Trinity Wellness Centre we're happy to provide two different forms of cupping. Our Registered Massage Therapists offer plastic or silicone cupping, while our Registered Acupuncturists can do silicone or glass fire cupping.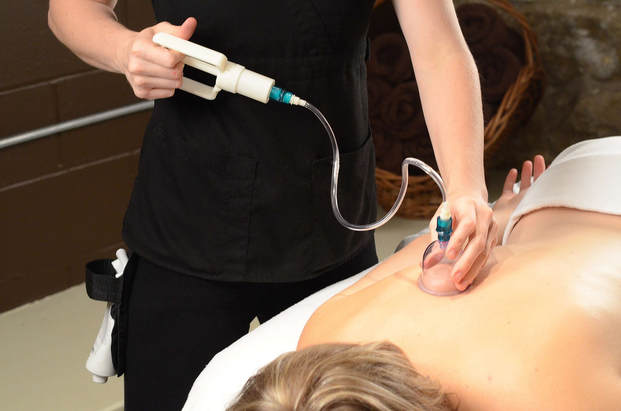 Plastic/Silicone Cupping: This modern take on the treatment features a rubber pump connected to the cup. The cup is placed upside down on the desired area of the body. Once in place, the pump creates a vacuum effect within the cup which causes skin to rise and redden as blood vessels expand. Plastic cupping can also be done with massage cream, which allows the cups to be moved around a patient's body while gently stretching the underlying tissue in a passive manner. Joint mobilizations may also be combined with plastic cupping to help increase your range of motion in a specific area. A number of different pressure levels can be used in plastic cupping too, including levels that are almost completely painless and levels that don't result in red circles.

Fire Cupping: The more traditional version of this therapy starts with a substance being placed within the cup and lit on fire. Once extinguished, the acupuncturist will place the heated cup on the skin of the affected area. The cooling air within the cup creates a vacuum and the ensuing suction pulls the skin, tissue, and muscles upward. The cup is left on for 5-10 minutes.
---
Why do people have red circles on their body after cupping therapy?
These circular bruises are common after receiving cupping therapy and rarely result in pain. The suction from the treatment brings blood to the surface of the skin which causes the circular bruises that are synonymous with cupping therapy.
Cupping is great for treating symptoms of…
Back and muscle pain
Poor circulation
High blood pressure
Migraines
Arthritis
Fibromyalgia
Looking to Recover from An Injury Faster or Up Your Athletic Performance? Cupping Increases Nutrient-Rich Blood Supply Which Helps with Both
You may remember seeing Michael Phelps and other Olympians sporting circular cupping bruises back in 2016 at the Rio Summer Games. Phelps — the most decorated Olympian of all time — and other athletes swear by the enhanced recovery from muscle fatigue cupping provides. The treatment increases nutrient-rich blood supply in a specific area of the body, like your legs or shoulders, which greatly aids in recovering from injuries faster too.
All our sheets and lotions are hypoallergenic and scent free for your safety and comfort.