Perfect for Relieving Pain, Treating Injuries, or Removing Stress
Swedish massage is the most popular form of massage in North America, and for good reason. This wide-ranging discipline involves using hands, forearms, or elbows to manipulate muscle tissue and can be performed using varying degrees of pressure. This makes it ideally suited for relieving pain, treating injuries, removing stress, and providing relaxation.

Depending on what type of treatment you desire, our therapists can tailor your treatment to provide you with exactly what you're looking for. Our team of Registered Massage Therapists will use a variety of techniques including trigger point therapy, lymphatic drainage, myofascial release, and relaxation strokes based on your health conditions, objective of the treatment, etc. Let your massage therapist know if there are specific areas on your body that you would like focused on due to pain or discomfort.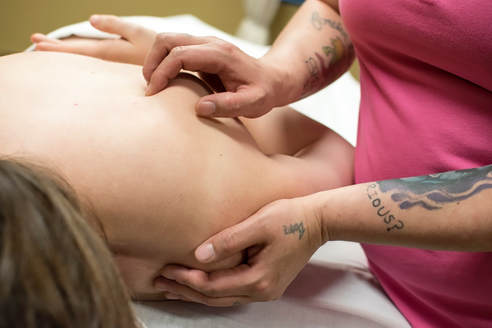 Types of Swedish Massage at Trinity Wellness Centre:

Relaxation
Exactly as it sounds. This type of Swedish massage is performed using long, softer strokes. The rhythmic motions and soothing pressure provide maximum relaxation. It's the type of massage you're most likely to fall asleep during.

Deep Tissue
Are you ready to get those knots out, improve your mobility, and have a better night's sleep? That's exactly what you'll get after a deep tissue massage. Although most people associate this type of massage with pain, an experienced therapist like the ones we have at Trinity Wellness Centre will work within your comfort range while still achieving optimal results.
​
Therapeutic
If you've suffered an injury or are feeling the ill effects of everyday wear and tear, then a therapeutic massage is your best friend. This targeted treatment focuses on a specific area of your body to provide immediate pain relief, improved circulation, and increased mobility to better help your overall recovery.


---
All our sheets and lotions are hypoallergenic and scent free for your safety and comfort.